Vikram director Lokesh Kanagaraj receives a car from Kamal Haasan.
Vikram, Kamal Haasan's most recent film, has increased the actor's star power. The action drama has been a box office hit, and the project has also become a craze among moviegoers. Kamal Haasan surprised Vikram director Lokesh Kanagaraj with a car as a result of the film's phenomenal success.
On social media, a shot of the actor giving up the car keys to the filmmaker has gone viral. Lokesh Kanagaraj wore a striped T-shirt and black denims, while the Vishwaroopam star wore a white shirt and trousers.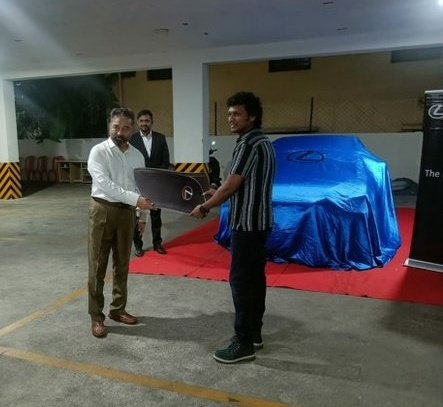 Fahadh Faasil and Vijay Sethupathi star in director Lokesh Kanagaraj's latest triumph. The film was a blockbuster when it was released on June 3 in theatres.
Kamal Haasan recently resorted to Twitter to thank fans for Vikram's success with a video greeting. In the video, he says that Vikram's success represents the triumph of all the good films being made by diverse artists across India, not just his own. The actor also advised the audience to continue supporting such films because they have a huge impact on people's thoughts.
The mass entertainer, produced by the protagonist himself under the company of Raaj Kamal Films, features an ensemble cast that includes Shivani Narayanan, Kalidas Jayaram, Narain, Antony Varghese, and Arjun Das, among others. The action drama's music was composed by Anirudh Ravichander.
Also, Read:
Kamal Haasan shares details about his friendship with Rajinikanth.