The Indian team displays steely nerves to defeat Spain 1-0 in the FIH Women's Nations Cup 2022 final.
Valencia (Spain): The Indian women's hockey team won the FIH Women's Nations Cup 2022 here in Valencia on Saturday, defeating Spain 1-0 in the final.
Indian was unbeaten in the event and was also promoted to the FIH Hockey Women's Pro League for 2023-24.
Gurjit Kaur (6′) scored India's sole goal in the Final.
The opening push back of the Final came from Spain, following which both teams attempted to retain possession, with the host team gaining an early PC. Savita, the Indian captain and goalkeeper, made an outstanding save before her side got its first PC of the game. Drag-flicker Gurjit Kaur got to the left side of Spanish goalkeeper Clara Perez and beat her to give India the lead in the first quarter.
India broke the Spanish press early in the second quarter as Lalremsiami got a PC for the team, but Gurjit Kaur couldn't defeat the goalie with her drag-flick this time. Spain quickly rebounded, making three entries in the Indian circle before gaining a PC halfway through the second quarter. Spain, on the other hand, failed to hit the back of the net as Savita stayed firm in front of the goal to maintain India ahead at halftime.
Spain rushed forward in quest of an equaliser in the second half, and Savita came off the line to make a fantastic stop. After earning a penalty corner, India had an opportunity to score their second goal of the game. To keep her team in the game, the Spanish goalkeeper dove to the right of the goalpost. Spain dominated possession and displayed superb ball rotation in India's half, which almost paid off when Lucia Jimenez placed the ball in the back of the net. The goal was disallowed, however, because the ball did not go five metres outside India's circle after the umpire granted Spain a free shot.
Both teams played excitingly in the fourth quarter. Spain pressed hard in pursuit of their first goal, earning a penalty corner 10 minutes before the end of the game. The Indian defence, on the other hand, held tight and kept the ball out of their goal. Salima Tete found herself in a goal-scoring position in the opposing half, but her tomahawk failed to beat Clara Perez. Spain secured a penalty corner late in the quarter, but Savita dove to her right to make an outstanding save, and India won the Final on a goal difference.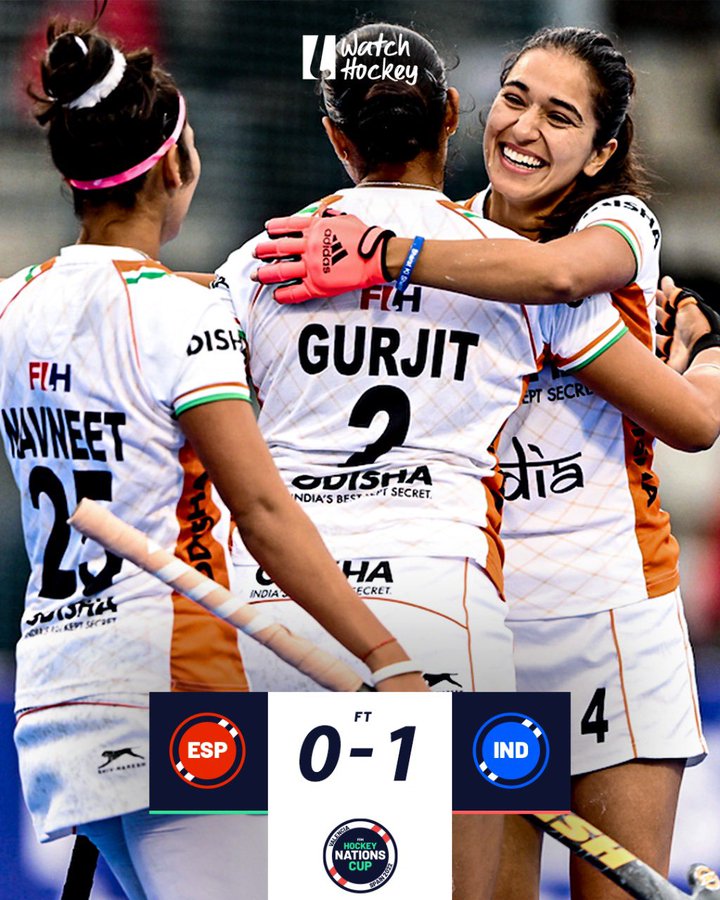 Hockey India has also stated that each player and support staff member of the Indian Women's Hockey Team that wins the FIH Women's Nations Cup 2022 will receive Rs 2 lakh.