Fans wonder if Ajith Kumar's clean-shaven appearance after finishing Thunivu is for Vignesh Shivan's AK62. See images
Ajith Kumar has shown off his new, clean-shaven appearance. Fans have now questioned whether Vignesh Shivan's AK62's new style is related to this. View images here.
Ajith Kumar, an actor who has been growing a thick and long beard for nearly a year in preparation for the filming of his upcoming movie Thunivu, has finally gone clean shaven, and his new appearance has drawn praise from his followers. Several admirers questioned whether Ajith's clean-shaven appearance was for his upcoming project with Vignesh Shivan after a picture of him in his new look appeared on social media on Tuesday night.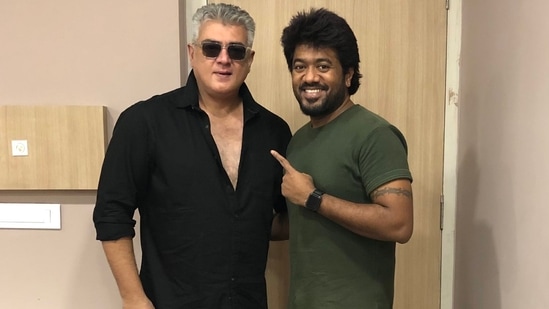 After finally wrapping up the filming for his forthcoming Tamil film Thunivu, which will be released in time for the Pongal holiday next year, Ajith got rid of his long-bearded appearance. On social media, there are two images of Ajith wearing the new appearance before and after.
He's posing in the first image with the same appearance he's had for the Thunivu photo shoot for the past year. He has no facial hair on in the second image. In the latest image, the actor opted for an all-black ensemble, donning a black shirt, black pants, and black shoes.
When the project was first revealed in May of this year, Vignesh thanked Ajith on Twitter for the chance. "I want to thank you, #AjithSir, for giving me this wonderful opportunity to collaborate with you on the esteemed #AK62. Words can't quite express the satisfaction, he had tweeted.
High expectations surround the upcoming release of Ajith's movie Thunivu. This project is the third time that Ajith, producer Boney Kapoor, and director H Vinoth have worked with. Manju Warrier also plays a significant part in the movie.