Days after the "Gaddar" statements, Ashok Gehlot and Sachin Pilot make an appearance together.
Days after the Rajasthan chief minister referred to his former deputy as a "gaddar (traitor)" in an interview with news channel NDTV, Ashok Gehlot and Sachin Pilot held a joint press conference in what may be perceived as a display of togetherness.
Rahul Gandhi's Bharat Jodo Yatra, which will visit Rajasthan on December 4, was praised by Gehlot and Pilot.
"Rajasthan will enthusiastically and vigorously welcome Rahul Gandhi's Bharat Jodo Yatra. The yatra will stay in the state for 12 days. Pilot stated in Jaipur that the yatra will be historic and that all demographic groups would be represented.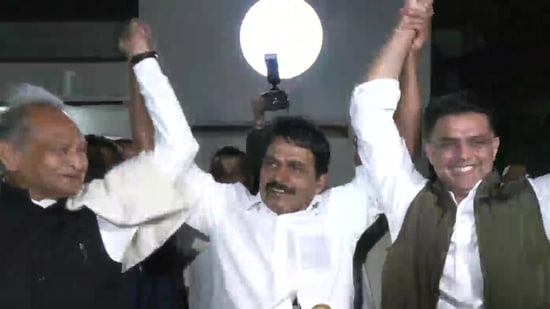 If Sachin Pilot and I are assets, as Rahul Gandhi claims, then we are assets. Together, we can make the Bharat Jodo Yatra a success since every employee is a resource. Because of public support and a favourable environment, we will prevail in the 2023 assembly election, according to the chief minister of Rajasthan.
Rahul Gandhi has indicated unequivocally that Ashok Gehlot and Sachin Pilot are assets to the party, according to KC Venugopal, general secretary of the Congress committee for organisation, who was also present at the event.
"We are a group. The Congress party in Rajasthan, according to Ashok Ji and Sachin Pilot Ji, is unified. Ashok Gehlot and Sachin Pilot are both assets to the party, as Rahul Gandhi has made clear, according to Venugopal.
Rahul Gandhi, a member of Congress, claimed on Monday that both leaders are advantages for the party. He responded, "It will not influence the yatra and both the leaders are assets to the Congress party," in response to a question about the many statements Rajasthan leaders Gehlot and Pilot have made in the midst of their power struggle.
In a strong rebuke on Thursday, Gehlot's former deputy claimed that such "mud-slinging" would not help and that Pilot is a "gaddar" (traitor) who cannot succeed him because he rebelled against Congress in 2020 and attempted to overthrow the state government.