Chiranjeevi, who was honoured at the IFFI, says he will never stop acting because "I'm a slave to the affection of my fans."
Chiranjeevi was named Indian Film Personality of the Year at the IFFI closing ceremony in Goa. On the occasion, he spoke about his cinematic career and his fans' affection.
At the 53rd International Film Festival of India, actor Chiranjeevi was named Indian Film Personality of the Year (IFFI). Chiranjeevi stated during the festival's closing ceremony after accepting his prize that he will never stop acting and will do so for the rest of his life since heis a slave to Telugu film fans' adoration.
Chiranjeevi also thanked the Telugu cinema industry and his fans for welcoming him back after a decade away from the screen. "I am grateful to IFFI and the Government of India for this amazing award and great honour." Few awards are unique, and this is one of them. My humble parents raised me in a middle-class home. I owe everything to the film industry: my popularity, name, charm, all privileges, the irreplaceable love and affection of my fans, and everything else. I had a second birth in the movie business as Chiranjeevi, he continued. I was born to my parents as Konidela Siva Shankara Vara Prasad.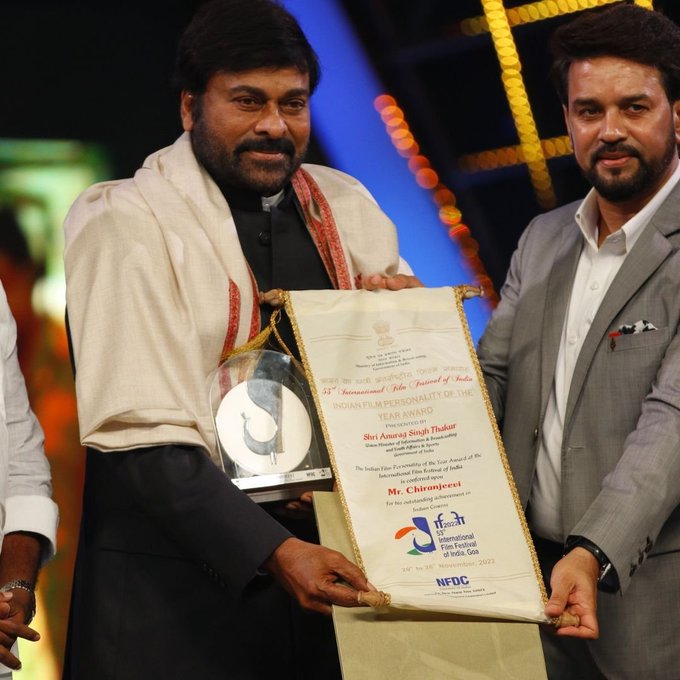 He went on to say that despite taking a decade off from performing to focus on politics, his fans still love him."For 45 years, I've worked in the film industry." During these 45 years, I worked in politics for a decade. I had to return to the film industry for whatever reason. I was worried about how people would react to me at the time. Will they shower me with the same amount of love and affection? I was sceptical since the generation has shifted.To my astonishment, the quantity of love and affection and my standing in their hearts have not diminished. That is the connection I have with my fans."I promise my fans that I will never leave the film industry again," he declared.
"I'm going to keep doing this," the actor said. Since I am a prisoner to the affection of Telugu movie viewers, he said, "I'll never stop acting."
Chiranjeevi was most recently seen in the Telugu film Godfather, and he is currently awaiting the release of his next film, Waltair Veerayya.